Backwoods Camp
Situated amidst the foothills of the Western Ghat mountains in Baghwan Mahaveer wildlife sactuary, Backwoods Camp offers the opportunity to see a range of species not normally seen on the coast at the very reasonable cost of £75 for a 4 days/3 nights all inclusive trip including travel to and from your coastal hotel. The group size of 10 people was, however, a bit too big for my liking and made forest bird photography even harder than normal. It was especially difficult to get a decent view over the shoulders of people much taller than me (I'm only 5'6") on the overgrown, narrow, boulder-strewn, dry riverbed that was home of one of our main target species - Blue-eared Kingfisher.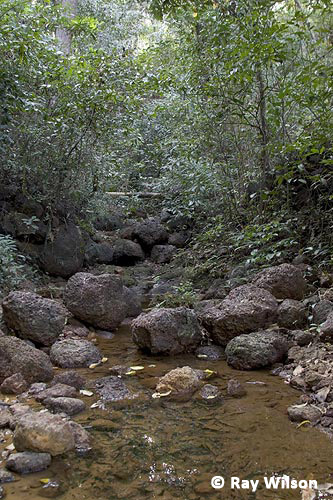 At least I did eventually get some ok, if a bit distant shots (the photos below are considerably cropped).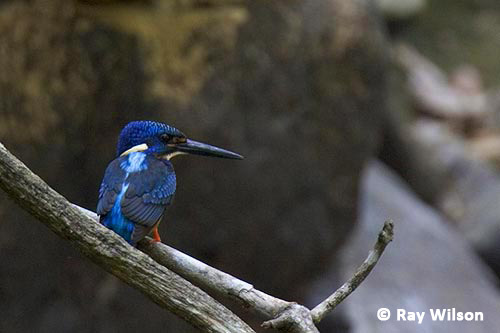 Blue-eared Kingfisher (Alcedo meninting)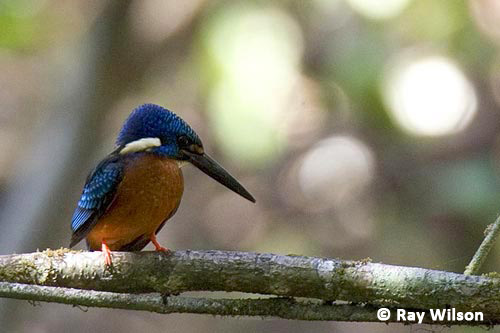 Blue-eared Kingfisher (Alcedo meninting)
This large snake (over a metre long) was hunting on the opposite river bank.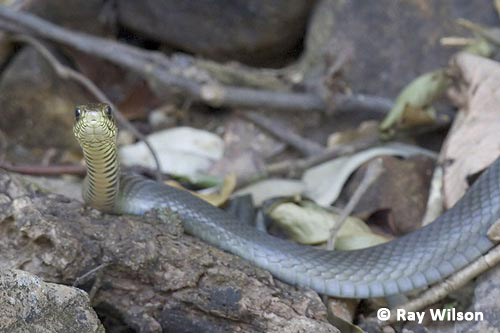 Rat Snake (Ptyas mucosus)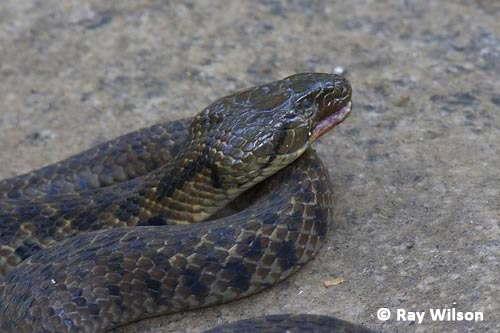 Rat Snake (Ptyas mucosus)
The path up the riverbed, starts at the 13th-century Sri Mahadev Temple at Tambdi Surla.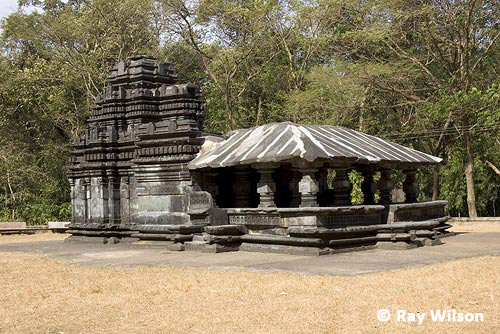 Sri Mahadev Temple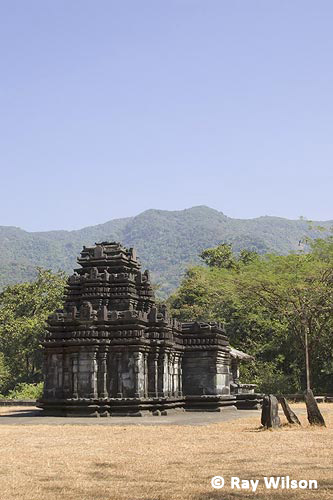 Sri Mahadev Temple
Unfortunately, I became quite ill the first night at Backwoods and was too weak to carry my camera on the walks that I stupidly dragged myself out of bed for. It's a sure sign your not feeling right when all you can think of whilst watching a Spot-bellied Eagle-Owl is how much you just want to lie down somewhere and go back to sleep!
Towards the end of the 2nd day I started to feel a little bit stronger and was able to drag myself out of bed to see a pair of Ceylon Frogmouths that Pramod had found roosting in a nearby bamboo thicket. Not one of my best photos... partly due to the thick undergrowth, but mainly due to me being too tired to be bothered trying to find a less obscured angle!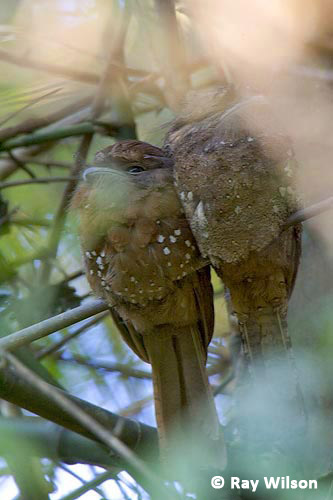 Sri Lanka Frogmouth (Batrachostomas moniliger)
As my strength slowly returned, I spent a bit of time photographing the birds around the camp...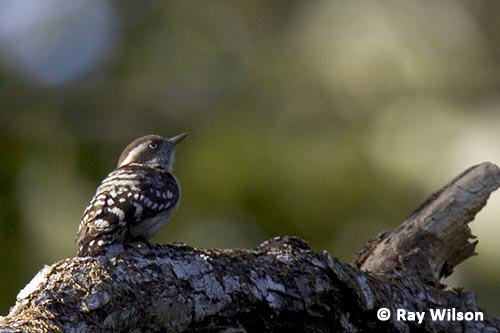 Brown-capped Pygmy-Woodpecker (Dendrocopos nanus)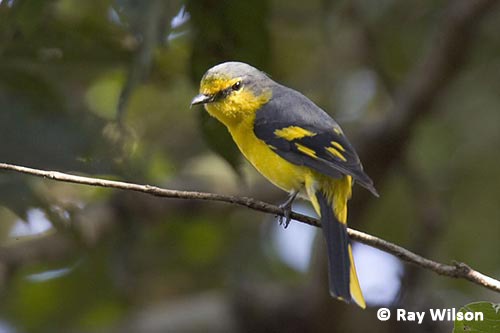 female Scarlet Minivet (Pericrocotus flammeus)
White-rumped Shama (Copsychus malabaricus)
Greater Racket-tailed Drongo (Dicrurus paradiseus)
...and down by the adjacent river, a troupe of Hanuman Langur Monkeys came for a drink.
Hanuman Langur Monkey (Anastomas oscitans)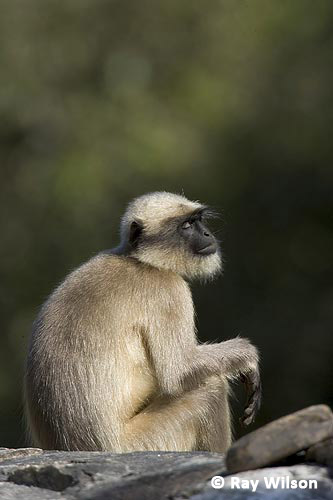 Hanuman Langur Monkey (Anastomas oscitans)
The pool below the waterfall was a favoured fishing spot for a Common Kingfisher and a Green-backed Heron...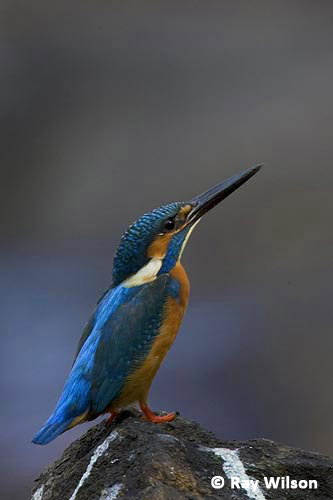 Common Kingfisher (Alcedo atthis)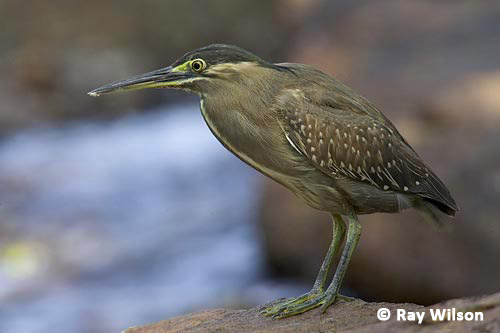 Green-backed Heron (Butorides striatus)
By our final morning, I was almost back to normal and felt fit enough to take a trip up to the temple after breakfast. The birdlife was a bit slow here this time but I finally managed to get some half-decent photos of a Malabar Giant Squirrel.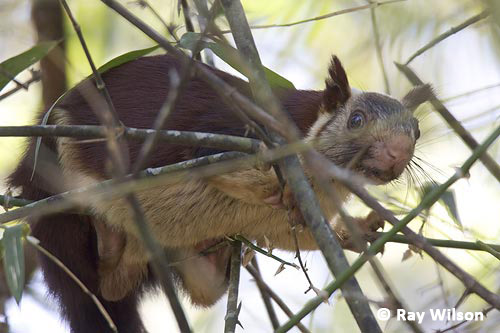 Malabar Giant Squirrel (Ratufa macroura)
There were also a couple of Egyptian Vultures flying up and down the river at quite low altitude.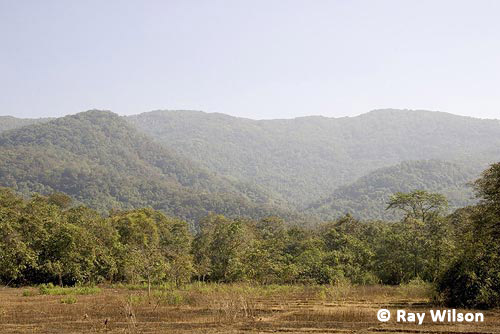 Western Ghat Mountains