Introduction
From the Black Sea coast, through hot, arid steppes to high alpine meadows, Bulgaria has a lot to offer both wildlife photographers and birders in terms of variety and quality . Among these avian delights resides a species that is near the top of most birders and photographers "wants" list - the Wallcreeper. Nowhere is it easier to see this enigmatic butterfly of the avian world than Bulgaria, and it was the lure of a chance to photograph this stunning species that brought me to here in June 2007.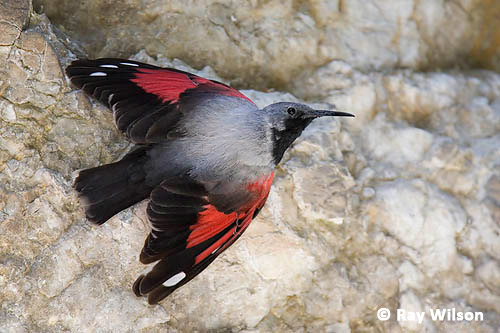 Wallcreeper (Tichodroma muraria)
To maximise my chances of success, I took the lazy option and hired the services of Emil Enchev, one of Bulgaria's top wildlife photographers, to guide me and take care of all the travel arrangements. A very wise move! Without Emil's help and local knowledge I would never have got even a fraction of the photos that you will see on the following pages, and I can highly recommend him to anyone wishing to photograph Bulgarian wildlife (for more information on Emil, visit his website www.cometobg.com).
Below is a rough, hand-drawn, clickable map of all the places I visited on this trip. Each link will take you to a page illustrated with photos taken at that location.