PLEASE NOTE! NONE OF THIS EQUIPMENT IS FOR SALE!!
THIS LIST IS HERE PURELY TO ALLOW PEOPLE TO SEE WHAT EQUIPMENT I USE.

The following is a list of all the equipment which I use/have used for creating the images on this website:
Camera bodies
Canon EOS 7D mkII (all photos from 1/2015-present)
Canon EOS 7D (all photos from 11/2009-12/2014)
Canon EOS 1D mkII (all photos from 9/2004 - 10/2009)
Canon EOS D60 (all photos from 7/02-8/04, except Gambia trip)
Canon EOS 3 (all photos pre-July '02, plus trip to The Gambia in January '03)
Lenses
Canon EF600mm f/4L IS USM II
Canon EF400mm f/5.6L USM
Canon EF100-400mm f/3.5-5.6L IS USM
Canon EF100mm f/2.8 macro USM
Canon MP-E 65mm f/2.8 1-5x macro
Canon EF17-40mm f/4L USM
Canon EF24-105mm f/4L IS USM
Canon EF 1.4x III extender
Canon EF 2x III extender
Other Accessories
Gitzo 1342XL Carbon Fibre Tripod
Wimberly MkII Gimbal-style Tripod Head
Canon Speedlite 580EXII Flashgun
Canon MT-24X Macro Twin Lite
Canon MR-14EX Macrolite
Better Beamer (extends the range of the flash by up to 3 stops)
Below is a photo of me, quite literally, in the field with my most commonly used gear...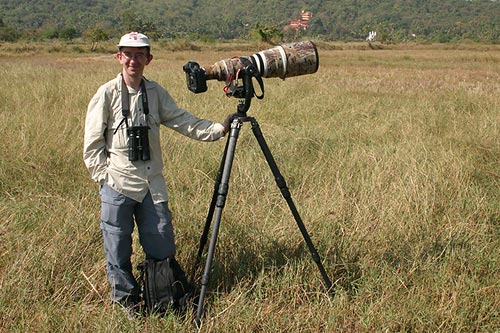 Baga Fields, Goa, India - © Ian Tew 2004