October 2014
17th-20th October 2014
Eyre Highway, Australia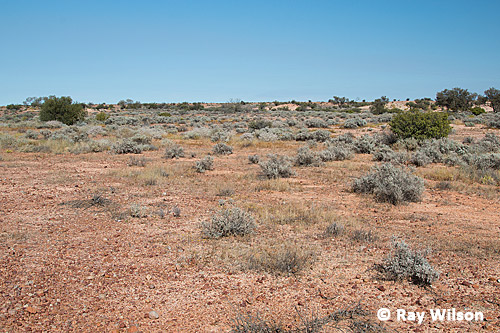 Typical desert landscape when travelling through the gibber plains south of Ayer's Rock
The drive from Ayer's Rock to Albany in Western Australia is a long one...a very long one! It is 1300km back down to the south coast and then another 2,300km through the Nullabor Desert to Albany, which in European terms is the equivalent of driving from Edinburgh to Istanbul!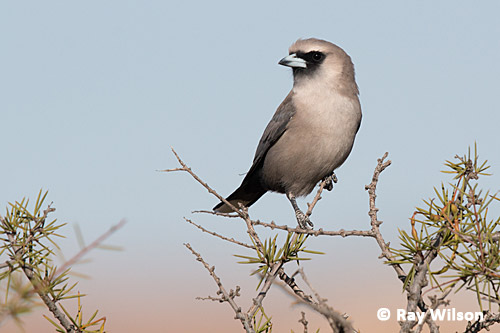 Black-faced Woodswallow (Artamus cinereus)
My first stop was just to the south of Coober Pedy, where I spent a couple of frustrating hours trying to get more than a fleeting view of the Thick-billed Grasswrens that were skulking in the clumps of spinifex grass. The only success I had here, however, was with a pair of Black-faced Woodswallows that were resting on prominent perches close to their nest.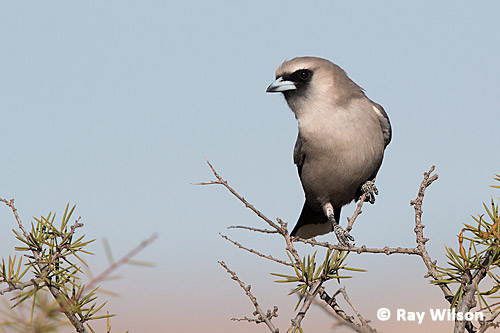 Black-faced Woodswallow (Artamus cinereus)
I had intended to take quite a bit longer to travel through the Nullabor and stop at a few places to explore the area once I'd crossed the Western Australia state border but, just as I arrived, a massive weather front passed through, dumping several inches of rain on the area. Consequently, my plans had to change and my journey through the Nullabor was restricted to the Eyre Highway as it is the only paved road in the area.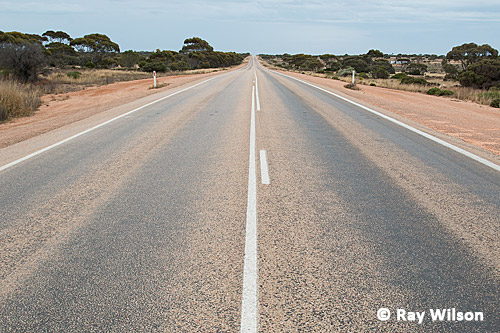 Start of the longest straight stretch of road in Australia. It is 146.8km, over 90miles, to the next bend!
Driving on the Eyre Highway doesn't require a huge amount of concentration. The road is quiet, wide and practically dead straight with only the occasional, hardly noticable bend once every 30-40km, although the traffic is suprisingly heavy considering the isolation of the area with oncoming vehicles being encountered every 10 minutes or so, usually a road-train or another campervan/caravan. One straight, the longest in Australia, is nearly 150km long (see above photo) and the bend at the end of it is so gentle you hardly notice it before you are onto another 50km straight!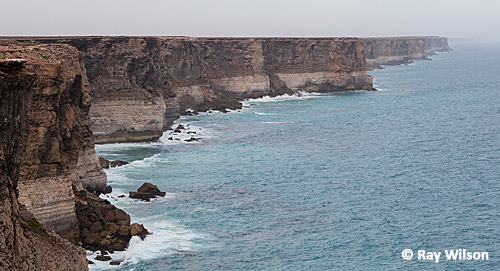 There are a few rest stops along the road that allow you to view the spectacular coastal scenery (not visible from the road itself) and I dutifully stopped at each of them. I am sure it is even more dramatic when the weather is not so dull and wet...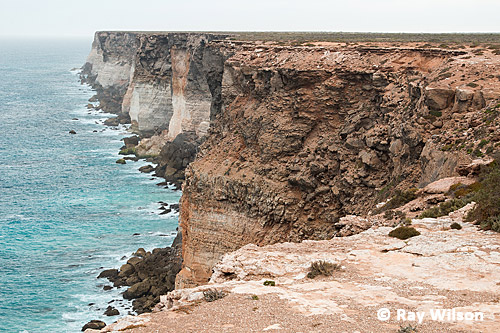 One stop that is definitely worth making at the western end of the Nullabor is Newman's Rock, a permanent waterhole just east of the highway about 50km north of the Balladonia Hotel Roadhouse.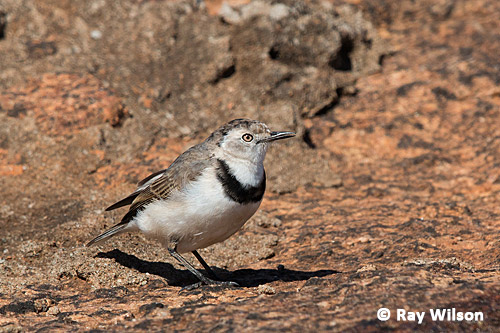 White-fronted Chat (Epthianura crocea)
Here I found a large flock of White-fronted Chats feeding on flies at the water's edge although it took quite a bit of waiting before they approached close enough for me to photograph them.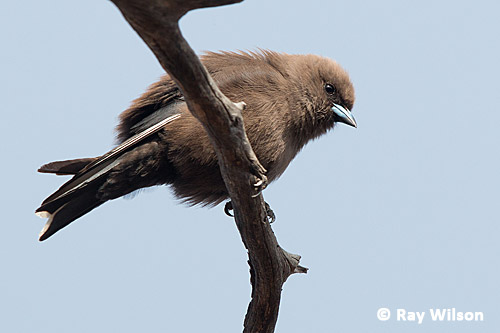 Dusky Woodswallow (Artamus cyanopterus)
The open forest surrounding the waterhole has abundant birdlife, with Dusky Woodswallows, Rufous Treecreepers and Purple-crowned Lorikeets all being fairly common here.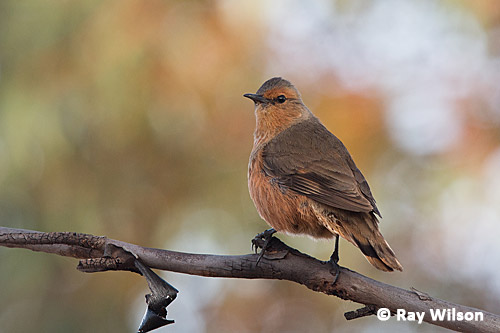 Rufous Treecreeper (Climacteris rufa)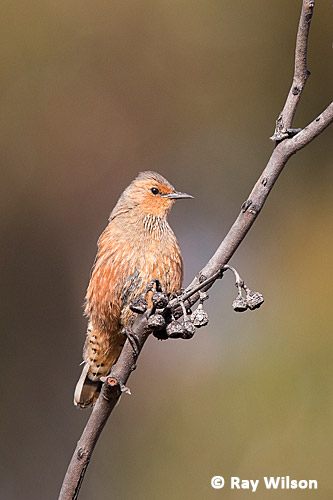 Rufous Treecreeper (Climacteris rufa)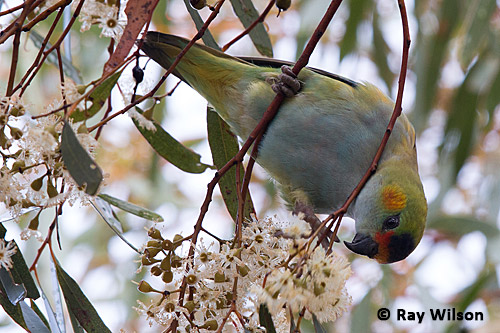 Purple-crowned Lorikeet (Glossopsitta porphyrocephala)