August 2014
31st August 2014
Daintree, Queensland, Australia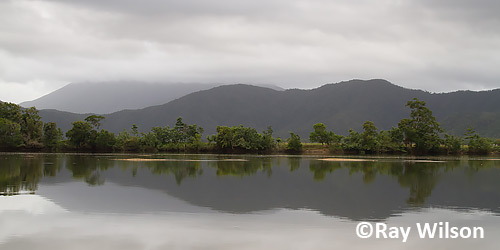 Daintree River on a dull, overcast morning
The day I had booked for an early morning cruise along the Daintree River unfortunately dawned dull and overcast, so I didn't have much hope of being able to get many decent photos but it was the only opportunity I had so I had to make the best of it. On the plus side, at least it wasn't raining!

Azure Kingfisher (Alcedo azurea)
A couple of Azure Kingfishers were for me the highlight of the 2 hour boat trip. You may be thinking to yourself that I have overdone the saturation of the blues in Photoshop, but you'd be wrong... If anything, in real life, even on such a dull day, it is an even brighter, more vibrant colour of blue than is shown in the photos!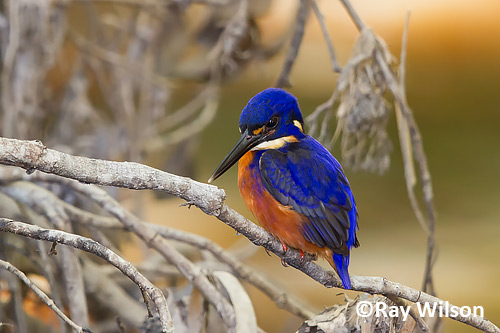 Azure Kingfisher (Alcedo azurea)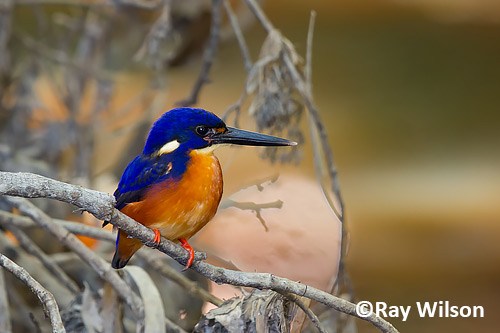 Azure Kingfisher (Alcedo azurea)
There were several Striated Herons lurking among the mangrove roots, but only one of them was in a photographable position, then again, you only need one to be co-operative...

Striated Heron (Butorides striatus)
A colonly of Nankeen Night-herons were also lurking deep in the cover of the mangroves, and it took a bit of manouvering to get the boat in a good enough position for me to take the photo below.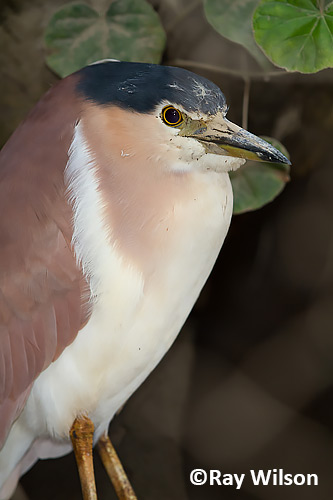 Nankeen Night-heron (Nycticorax calendonicus)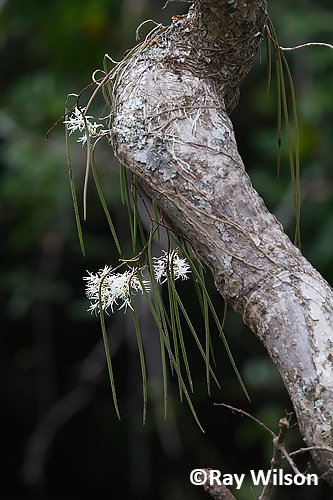 Pencil Orchid (Dockrillia teretifolia)
Flitting around in the trees along the water's edge, making arial sorties to catch flies were both Leaden and Shining Flycatchers.
male Leaden Flycatcher (Myiagra rubecula)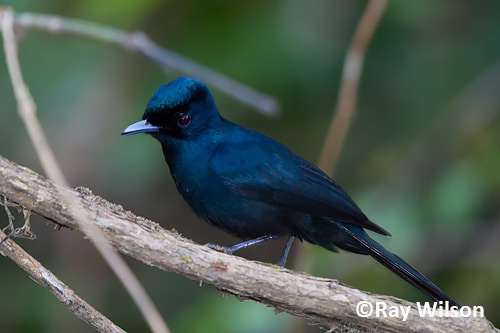 male Shining Flycatcher (Myiagra alecto)
Back on dry land, I took a short walk through the village. As with more or less everywhere Laughing Kookaburras were common and were using any available prominent perch to survey the surounding area for lizards and large insects.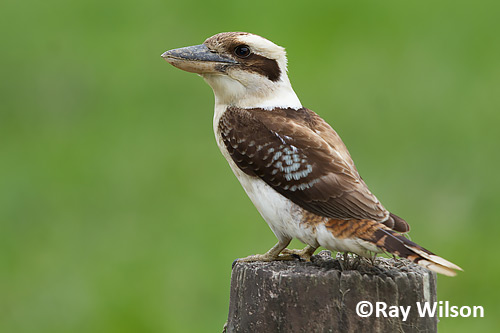 Laughing Kookaburra (Dacelo novaeguineae)
The walk also produced views of a couple of Victoria's Riflebirds and numerous Helmeted Friarbirds but these were too high in the trees to be able to get decent photos of them. Far more obliging, however, were a pair of gorgeous Wompoo Fruit-doves that sat preening in a relatively low branch for over half an hour.
Wompoo Fruit-dove (Ptilinopus magnificus)