Urewera National Park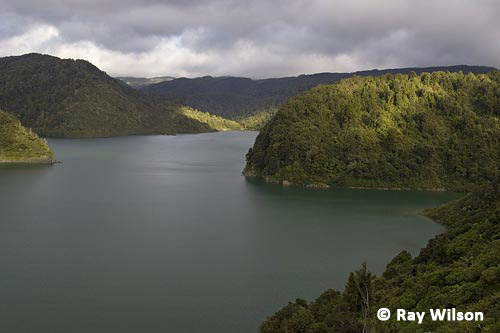 Lake Waikaremoana
Urewera National Park contains the largest forest on North Island and covers huge area of remote wilderness. I had decided to incorporate Urewera into my itinery since the Stuart Chambers book (Birds of New Zealand: A Locality Guide) stated there was a 90% chance of seeing Blue Duck on a couple of easily accessible rivers in the park. Unfortunately, that information is out of date and all the Blue Duck territories in this area now require a long walk into the back country, which I didn't have time for. (I later found out about a much more convenient and very reliable site for Blue Duck along the Manganui-o-te-Ao River at Ruatiti).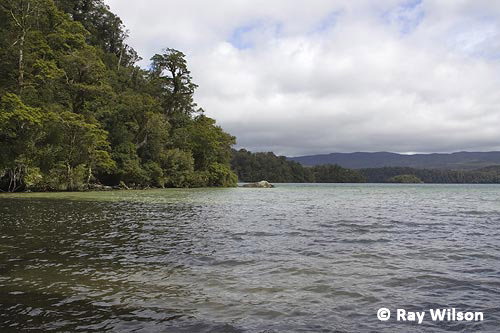 Lake Waikareiti
Even without the Blue Duck, Urewera National Park was still worth visiting for the scenery and walks in the lush forests and along the lakeshores.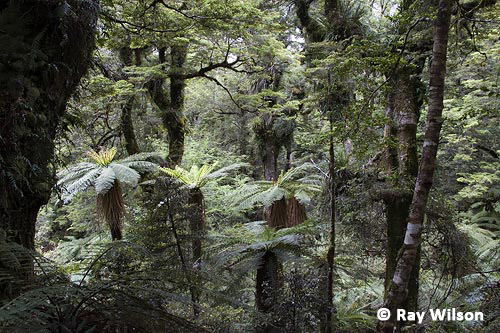 A typical forest scene along the Lake Waikareiti track
Tree Ferns are abundant in New Zealand, giving the forests a very primeval feel. The most common species, the Mamaku (or Black Tree Fern) is also the tallest and grows up to 20m in height.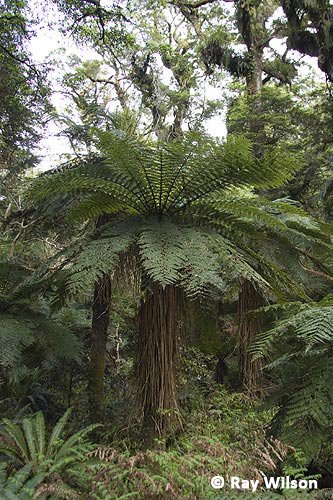 Mamaku or Black Tree Fern (Cyathea medullaris)
Birdlife in the forest is plentiful, but very difficult to see in the high canopies of the Rimu trees. Long-tailed Cuckoo and Kaka were frequently heard but only occasionally glimpsed. Riflemen were also seen occassionally, but it was too dark and gloomy on the forest floor on this overcast day to photograph those tiny, hyperactive birds. The high pitched call of the Rifleman is above the range of my hearing so I probably walked past loads of them without realising they were there.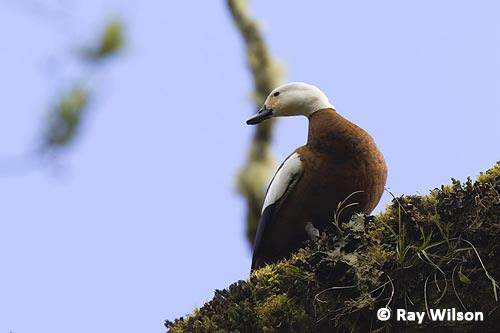 Female Paradise Shelduck (Tadorna variegata)
I didn't really expect to see a large duck perched 25m up an enormous Rimu tree, but Paradise Shelducks often nest in tree holes at this altitude. Once hatched, the incredibly resilient ducklings jump to the forest floor and follow their mother to the nearest water.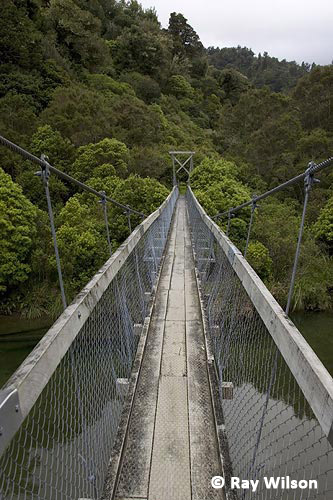 One of the swing suspension bridges that cross deep unfordable rivers.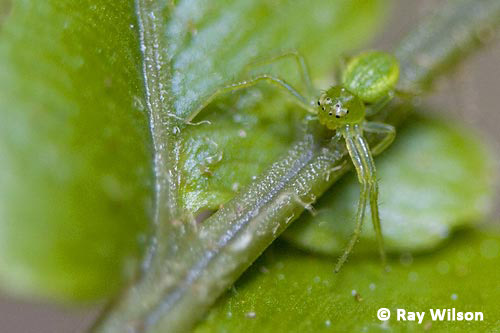 Crab Spider
There are many scenic waterfalls in Urewera. The Bridal Veil Fall is one of the most accessible and is only 1km from the Aniwaniwa Visitor Centre.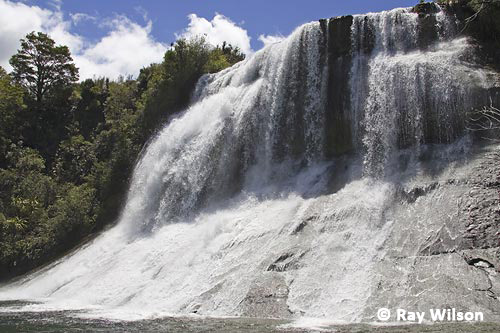 Bridal Veil Falls