November 2016
Atherton Tablelands, QLD, Australia
Part 1

Scarlet Honeyeater (Myzomela sanguinolenta)
After my return from the Cape York trip I was supposed to have been leading a tour in the Wet Tropics for the final 10 days of my stay in Queensland, but it unfortunately had to be cancelled due to the very unusual event of every single one of my clients pulling out for either medical emergencies or family crises! On the bright side, this left me with more time to do as I pleased.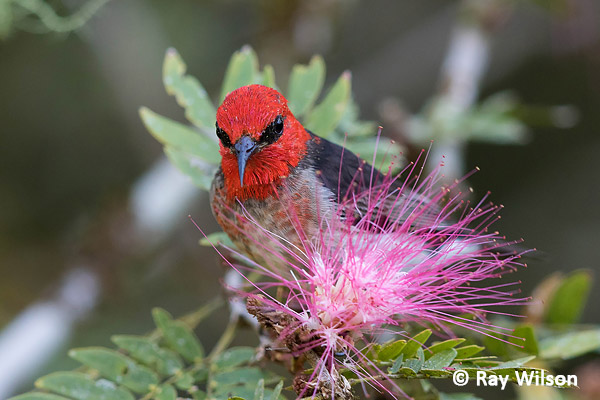 Scarlet Honeyeater (Myzomela sanguinolenta)
Some of the Grevillias were coming into full bloom at the Lake Barrine teahouse carpark and they attracted numerous Honeyeaters, including Scarlet, Bridled, Dusky, Lewin's and Eastern Spinebill.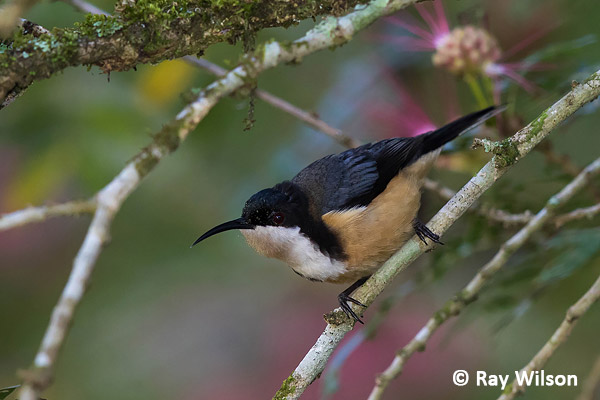 Eastern Spinebill (Acanthorhynchus tenuirostris)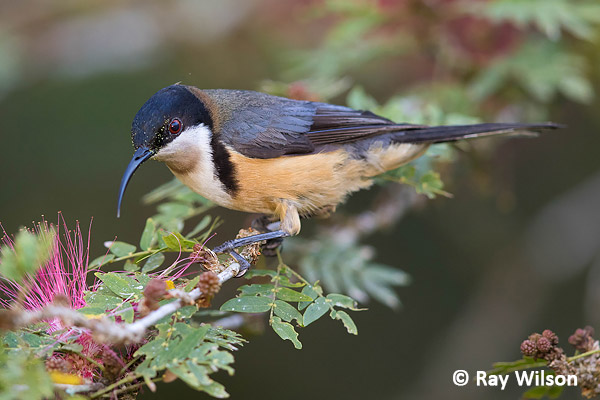 Eastern Spinebill (Acanthorhynchus tenuirostris)
Bridled Honeyeater (Lichenostomus frenatus)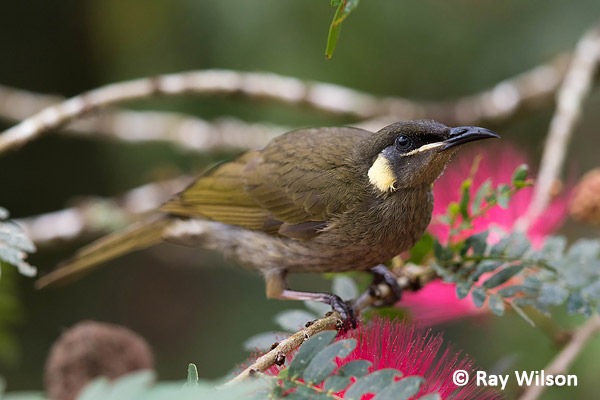 Lewin's Honeyeater (Meliphaga lewinii)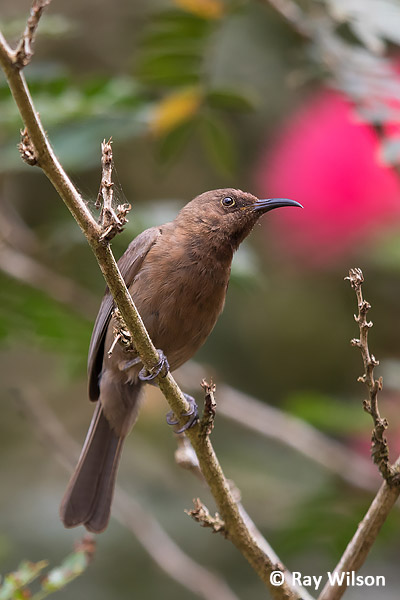 Dusky Honeyeater (Myzomela obscura)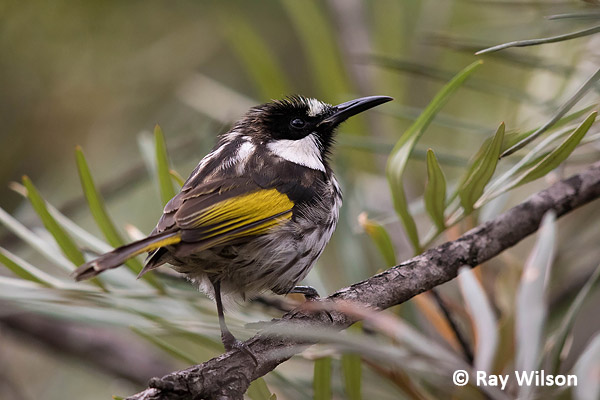 White-cheeked Honeyeater (Phylidonyris niger)
Flowering bushes at the nearby Lake Eacham caravan park were a popular feeding site for White-cheeked Honeyeaters...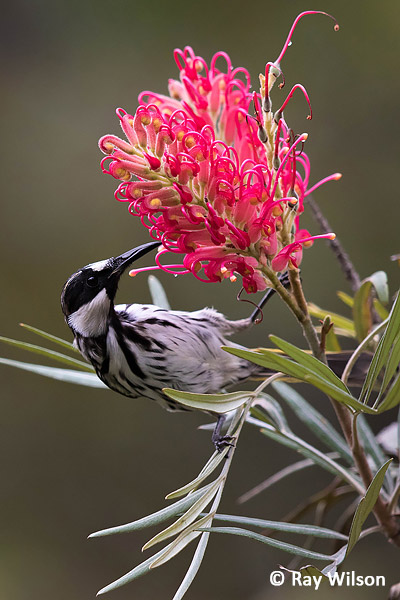 White-cheeked Honeyeater (Phylidonyris niger)
.Numerous Zodiac Moths were also attracted to the abundant supply of nectar. This spectacular moth is a good example of Batesian mimicry, and has evolved to resemble a species of Papilonidae butterfly that is distasteful to birds. Unfortunately for the Zodiac Moths in Australia, however, the particular species it is mimicing only occurs in New Guinea. As a consequence, the Australian populations are unlikely to derive any beneficial effects from their mimicry as local birds do not come into contact with the toxic species and will not have learned to avoid eating them.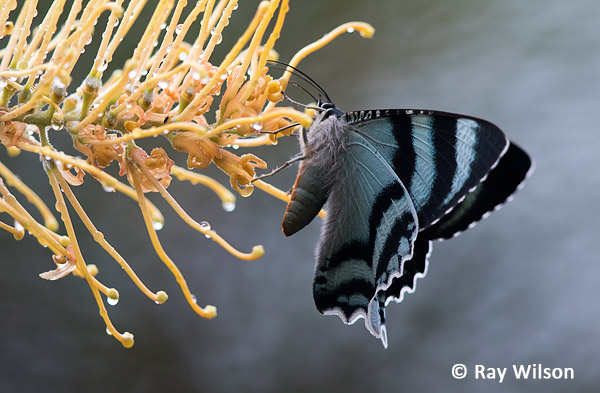 Zodiac Moth (Alcides zodiaca)
A fault in the auxillary battery of my campervan meant I had to make an unscheduled trip down to Cairns. While I was there, I stopped in at Centenary Lakes. There wasn't a great deal of interest there as it was starting to get hot by the time I arrived, but a few Plumed Egrets were fishing in the shallows close to the path.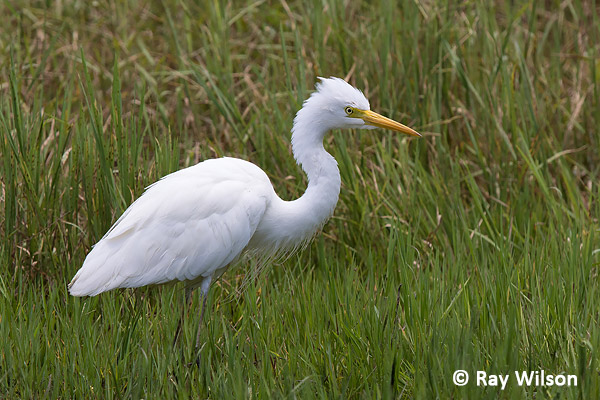 Plumed Egret (Ardea plumifera)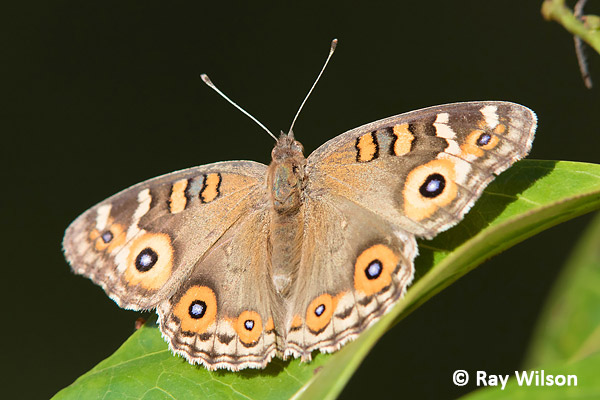 Meadow Argus (Junonia villida)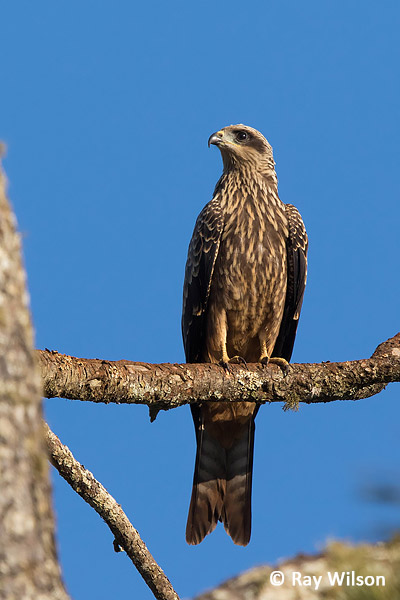 immature Black Kite (Milvus migrans)
Immature Black Kites have contrasting fawn streaks in their plumage making them a much more handsome bird than the more uniform adults. They are very common on the Tablelands and often gather in large flocks to follow tractors as they plough the fields.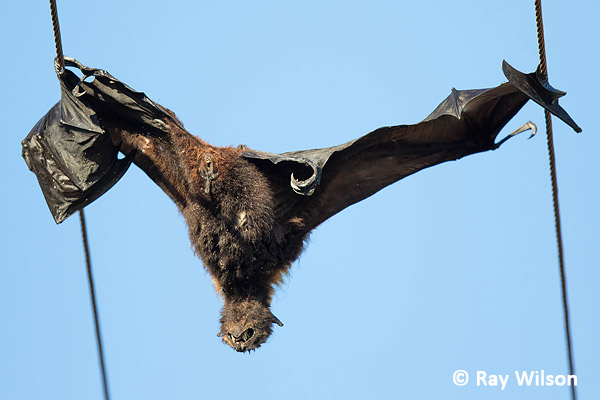 Spectacled Flying-fox (Pteropus conspicillatus) killed by flying into power wires
At a number of locations around Atherton, the corpses of Spectacled Flying-foxes that have been killed after flying into fences or power-lines can unfortunately be found. These wires present a major navigational hazard for these large bats and fatalities are common after their delicate wings become damaged or entangled.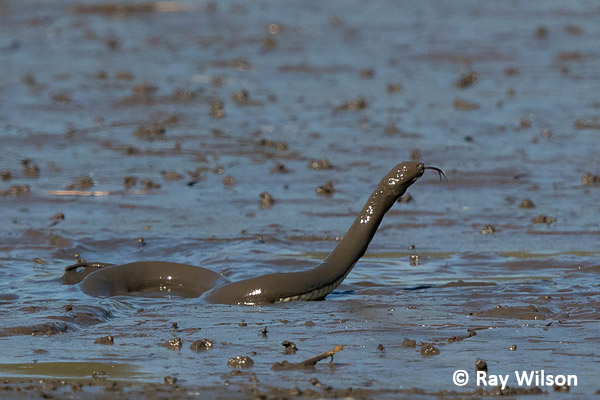 snake sp. stuck in the mud
By November, Hasties Swamp was little more than a muddy puddle and one morning, while Sandy and I were trying to photograph Dollarbirds wheeling around above our heads, I spotted the above snake that appeared to be stuck in the thick mud. During the hour or so we were there it didn't seem to make any progress and would thrash around for minute or so as it attempted to free itself then stop for a rest, visibly breathing hard. Sandy called a local snake handler she knew to alert him of its plight but he was unable to find it when he had time to check later in the day. Hopefully it had managed to free itself and escape to the shade...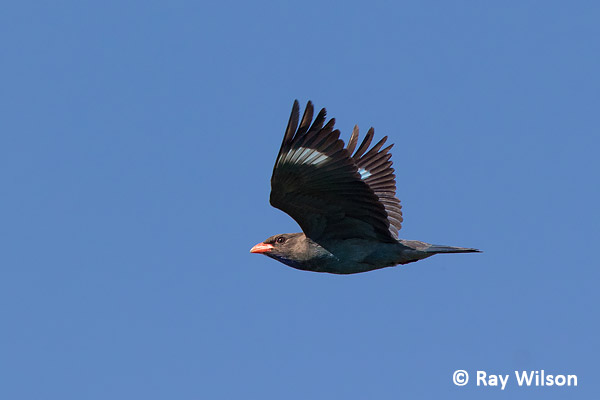 Oriental Dollarbird (Eurystomus orientalis)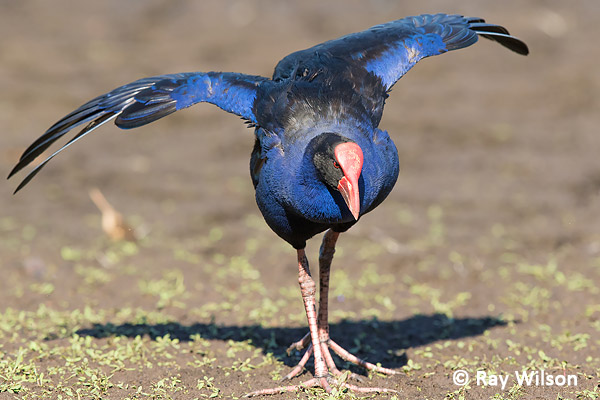 Purple Swamphen (Porphyrio porphyrio)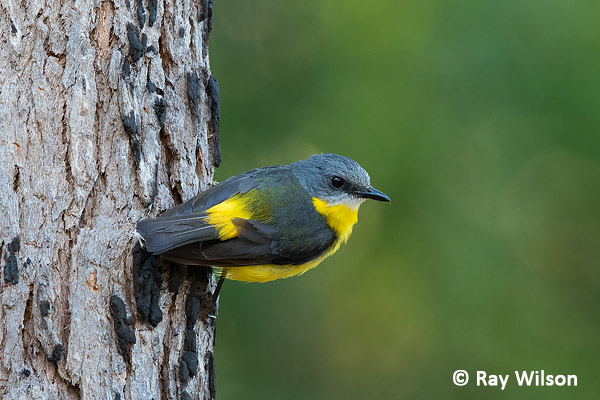 Eastern Yellow Robin (Eopsaltria australis)
Eastern Yellow Robins and Noisy Friarbirds are common in the Eucalypts lining the roadside at Hasties Swamp.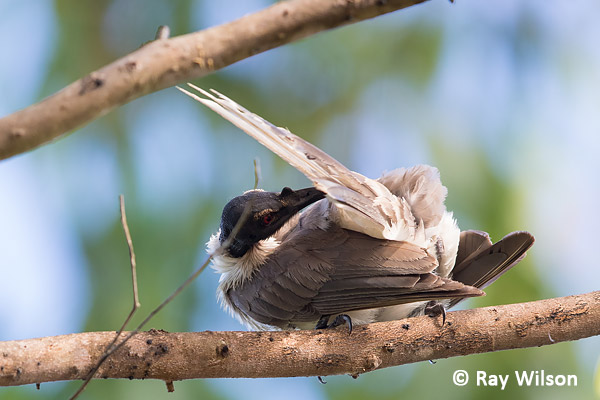 Noisy Friarbird (Philemon corniculatus) preening its tail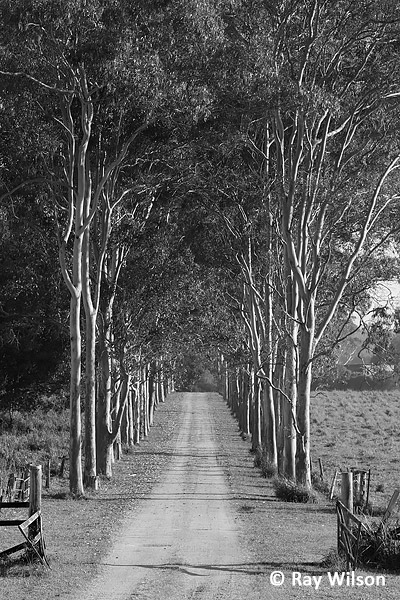 Avenue of Eucalyptus trees, Yungaburra