Fox & Franz Josef Glaciers
The Fox and Franz Josef Glaciers are two of the most accessible glaciers in the world. Nowhere else at a similar latitude (43degrees South) do glaciers come so close to the sea, with their terminal faces grinding their way through temperate rain forests.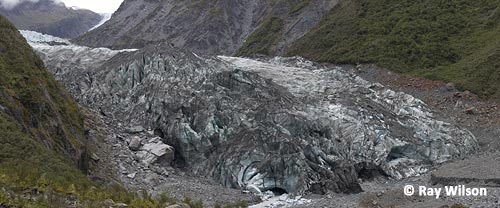 Fox Glacier
The Fox Glacier is the longest of the west coast glaciers and is approximately 13km from top to bottom.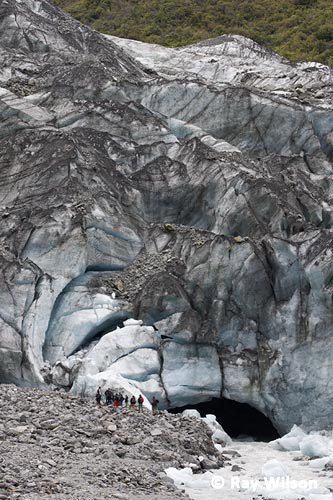 The terminal face of the Fox Glacier
If you look at the statistics, parts of the west coast of South Island have some of the wettest towns in the world with an average precipitation of around 3000mm and over four times that amount falling on the high peaks. However, the number of wet days per year (>0.25mm) is about the same as my home city of Edinburgh which only has around 670mm of rain per year. This means that when it rains, it really rains. In one storm at the Fox Glacier in late December 2004, a reported 16inches (40mm) fell in one 24 hour period! Thankfully, I didn't experience anything like that and it was bright and sunny for the entire 3 days I stayed on the west coast.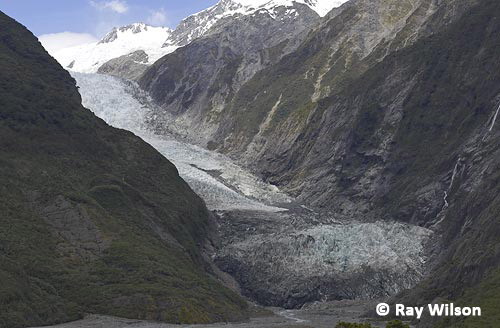 Franz Josef Glacier
The terminal faces of the glaciers are several kilometres further up the valley than they were when they were first discovered 150 years ago. However, since 1985, both the Fox and Franz Josef Glaciers have been advancing back down the valley.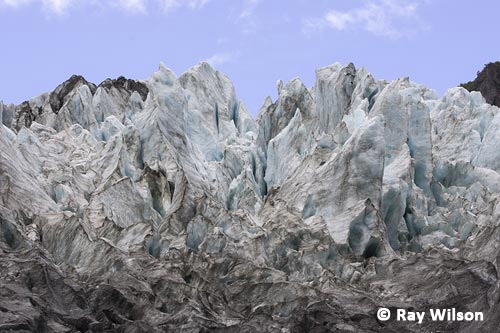 Terminal face of the Franz Josef Glacier
The steep slopes from mountain top to valley floor, coupled with being fed by 30m of snow falling annually on the upper slopes, mean that these glaciers flow at a remarkably fast speed. In 1943, a plane crashed on the Franz Josef Glacier 3.5km from the terminal face. In just six and a half years the wreckage reached the bottom. That equates to an average speed of 1.5metres per day... over 10 times faster than any glacier in the Swiss Alps!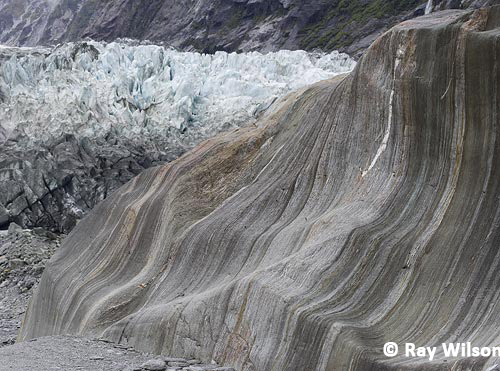 Glacier-sculpted rock