Ulva Island
Ulva Island is a predator-free island sanctuary and is well worth a visit. It is an easily accessible 20 minute journey by water taxi from the Golden Bay wharf in Oban, Stewart Island. Each taxi usually runs about 3 times a day starting at 9am and costs about NZ$20-25 for the return trip depending on the operator. For an extra $5-10 you can also make arrangements with most of the boatmen to take you out for dawn if you wish.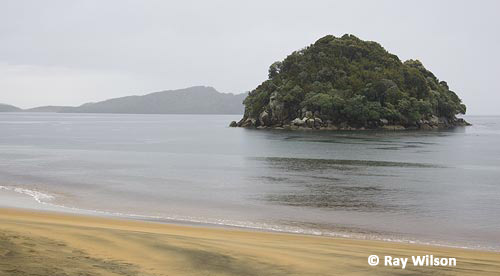 Small islet offshore of Ulva Island
It was a very wet morning and I was questioning my sanity a bit when I arrived on the island at 7am. It is never much fun being a bird photographer in the pouring rain! Thankfully, the rain cleared up by 9am and it turned into quite a nice day in the end.
Because it is predator-free, many of the native birds are more numerous here than on Stewart Island. This is especially obvious with the Weka, a very inquisitive flightless rail.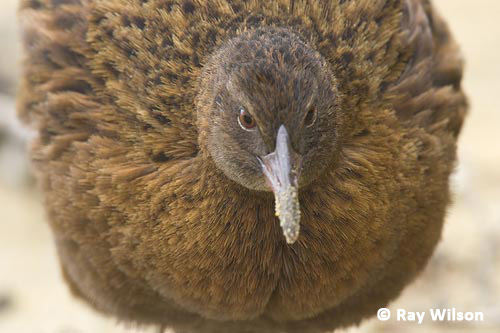 Weka (Gallirallus australis)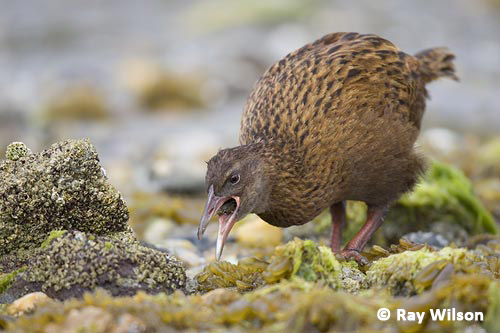 Weka (Gallirallus australis)
The Weka on Ulva Island are totally fearless, and will quite happily try to open your backpack and steal your lunch if are not careful. This individual was, however, foraging for more natural food along a rocky beach, tossing stones aside as it searched for cockles.
Weka (Gallirallus australis)
Weka can raise up to 4 broods of chicks a year if the conditions are favourable. The chicks, despite being fully mobile from hatching, are fed by their parents until they are 6-10 weeks old.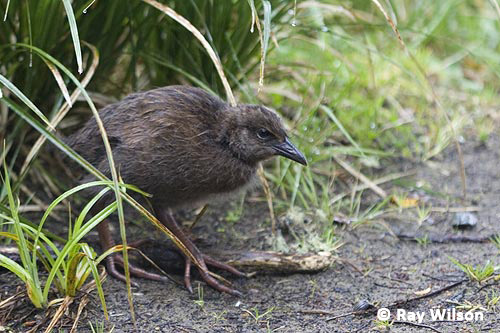 Weka (Gallirallus australis) chick
The Tomtit is another species that is noticably more common on Ulva Island.
Tomtit (Petroica macrocephala)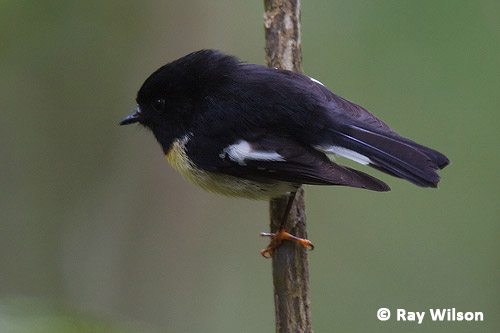 Tomtit (Petroica macrocephala)
Formerly an abundant species on South and Stewart Island, the Yellowhead's population is now only a few thousand individuals. They disappeared form Stewart Island completely in the 1930's and are continuing to decline in many of their strongholds. In October 2002, 27 birds were released on Ulva Island as part of a relocation scheme to establish populations on predator-free islands. The Yellowhead shown below was one of a party of four I found foraging on the forest floor.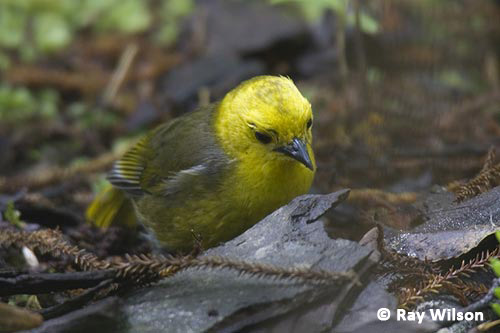 Yellowhead (Mohoua ochrocephala)
Some of the plants on Ulva Island are also rare, such as the New Zealand Sea Spurge (below right).
The robins, as usual, were very tame!
| | |
| --- | --- |
| New Zealand Robin (Petroica australis) | New Zealand Sea Spurge (Euphorbia glauca) |