Trounson Forest Park
Situated about 40km north of Dargaville in the Northland District of North Island, Trounson Forest Park and the nearby Waipoua Forest contain some of the last remnents of the ancient Kauri forests that in the past covered a large portion of the northern swamps of North Island. It is also one of the easiest places to see North Island Brown Kiwi.
The Kauri Tree is a true giant. The largest living specimen, Tane Mahuta (Maori for 'Lord of the Forest'), stands over 51m tall, with a girth of 14m and its first branch is 17.7m from the ground. Estimates of its age vary between 1200-2000 years old. Since the trunk of Kauri trees doesn't taper towards the top, it is considered to contain the largest timber volume of any tree in the world and is second only in height to the Giant Redwood of North America.
| | |
| --- | --- |
| New Zealand Pigeon (Hemiphaga novaeseelandiae) | Kauri Tree (Agathis australis) |
The weather was not very kind to me the day I visited this area. Persistant, heavy rain meant bird activity was quite low and the dull, flat light made photography difficult, although I did eventually manage to get a few reasonable shots of some of the commoner species...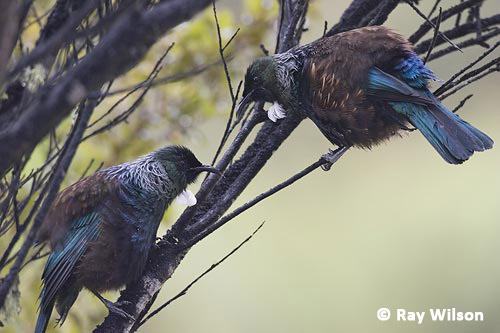 Tui (Prosthemadera novaeseelandiae)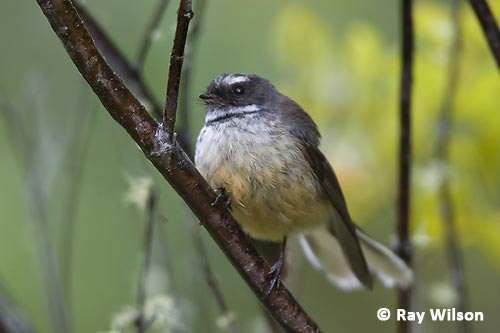 Grey Fantail (Rhipidura fuliginosa)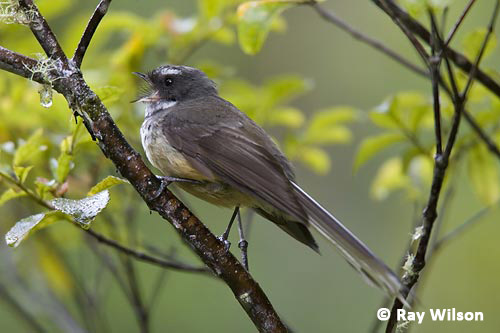 Grey Fantail (Rhipidura fuliginosa)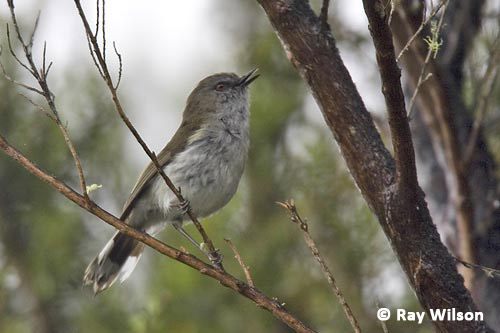 Grey Warbler (Gerygone igata)
North Island Brown Kiwis are seen almost every night on the guided night walks run (under licence from the DOC) by Herb IIles. These very reasonably priced walks (NZ$15) leave from the Kauri Coast Top 10 Holiday Park on Trounson Park Road and I would thoroughly recommend them to anyone interested in seeing a Kiwi. Photographing them is not easy since flash photography is prohibited and to limit the disturbance to the Kiwis Herb's red-filtered light is the only illumination allowed when a kiwi is spotted. It was made doubly difficult for me because I stupidly only took my 400mm lens with me. This was far too much magnification for a large bird which was often a lot closer than 3.5m (the minimum focusing distance of the 400mm lens), and even at ISO3200 the shutter speed was too low to freeze the movement of the Kiwi as it dug for worms. All I got were unusable, hopelessy blurred images that were barely recognisable as Kiwis.
Apart from the Kiwis, Herb also pointed out the other interesting nocturnal wildlife including numerous Cave Wetas, Sheetweb Spiders (whose webs are a real work of art when viewed by torchlight), eels, freshwater crayfish and fish. The trip ends around midnight, back at the campsite with views of the glow-worms (a fungus gnat larva) on the river bank. I wish I had taken my macro lens!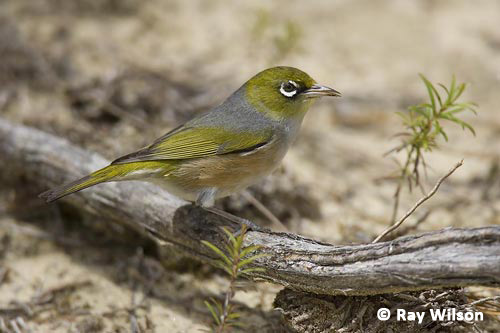 Silvereye (Zosterops lateralis)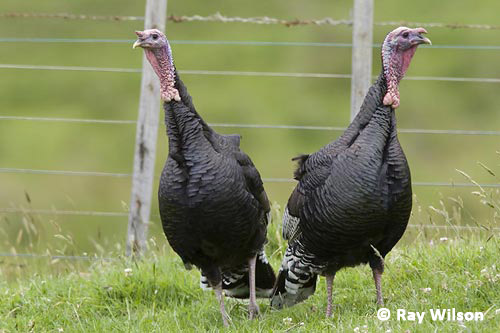 Wild Turkey (Melagris gallopavo)
Native to North America, Wild Turkey are a fairly common introduced species on North Island, favouring areas of farmland with dense cover nearby.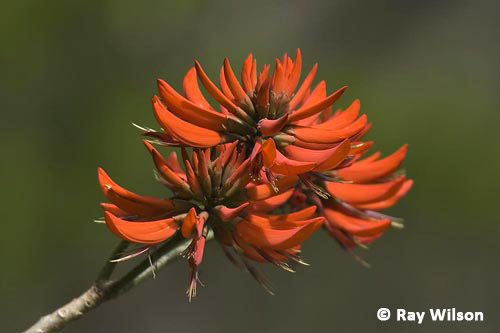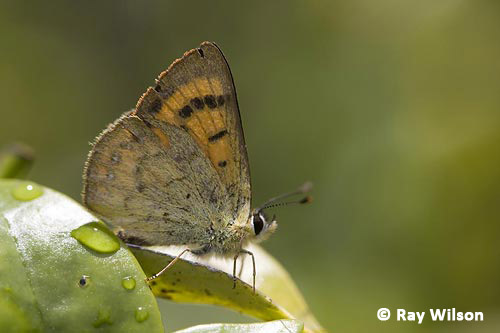 Copper sp. (Lycaena rauparaha complex)
A little bit further up the coastal highway are some very scenic areas of coastline...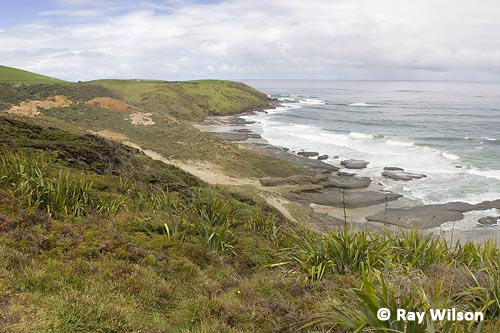 Arai Te Uru Scenic Reserve, Northland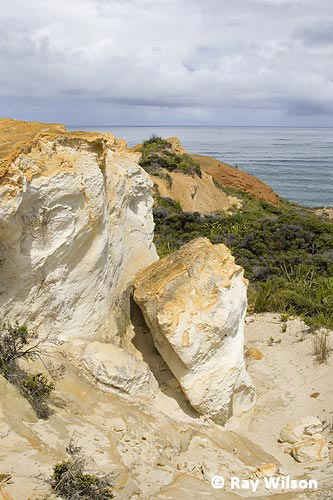 Arai Te Uru Scenic Reserve, Northland