Great Otways National Park, Victoria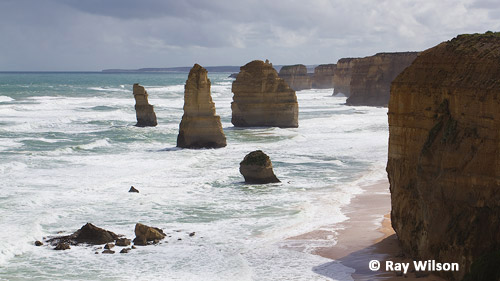 The Twelve Apostles
The Great Otways National Park is best known for its dramatic coastal scenery. The most famous of its many landmarks is the Twelve Apostles, named after the 12 sandstone columns that were present at the time of its discovery. The continuing natural process of erosion has caused the collapse of several of the columns in recent years, diminishing its grandeur to some extent but it is still a spectacularly beautiful place.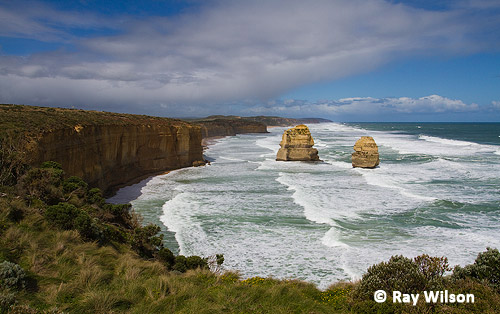 Looking east from the Twelve Apostles viewpoint
The principle reason for me visiting the Otways, however, was the opportunity to join an evening kayak trip on the beautiful Lake Elizabeth in the hope of photographing Duck-billed Platypus.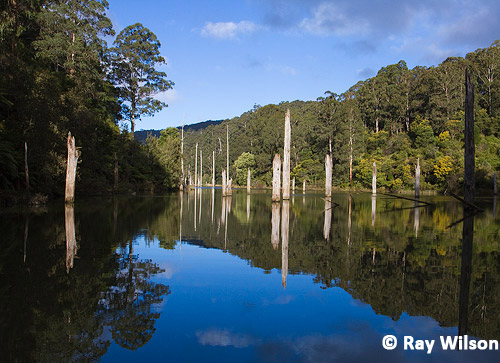 Lake Elizabeth
The 3 hour paddle around the small lake is organised by Bruce Jackson of Otway Eco Tours and is well worth the money if you want an almost guaranteed chance of seeing Platypus at close range. Photographing them is not easy, however, since the Platypus is a crepuscular animal and is most active at dawn and dusk. By the time they start swimming around in the evening the light is beginning to fade and getting a sufficient shutter speed to obtain sharp photos when handholding from the unstable platform of the canoe is a major problem even when using a high ISO setting.

Duck-billed Platypus (Ornithorhynchus anatinus)
I stayed at the campsite at Kennett River for the 3 nights I was in the Otways, and the area around the campsite is an excellent place for seeing a good range of wildlife. Koalas are particularly common in the forests around the campsite with many present at very close range in the campsite itself.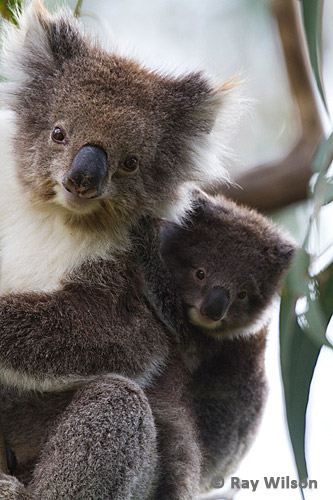 Koala (Phascolarctos cinereus)
King Parrots are also common in the campsite.
| | |
| --- | --- |
| male | female |
Australian King Parrot (Alisterus scapularis)

male Australian King Parrot (Alisterus scapularis)
The parrots are also very tame here, as the sale of bird seed at the camp shop encourages people to feed them.

female Australian King Parrot (Alisterus scapularis)
| | |
| --- | --- |
| Laughing Kookaburra (Dacelo novaeguineae) | immature Crimson Rosella (Platycercus elegans) |
A small flooded area next to the campsite was home to a few families of Pacific and Maned Ducks busily rearing their chicks.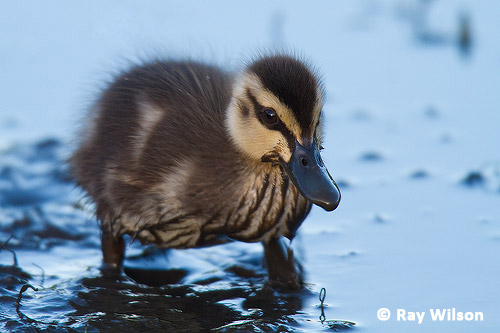 Pacific Black Duck (Anas superciliosa) duckling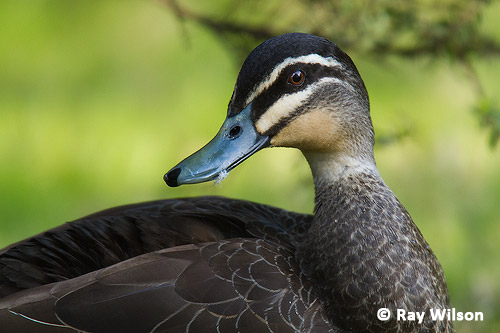 Pacific Black Duck (Anas superciliosa)

Pacific Black Duck (Anas superciliosa)
A White-faced Heron was also attracted to the flooded area...
| | |
| --- | --- |
| White-faced Heron (Egretta novaehollandiae) | Eastern Yellow Robin (Eopsaltria australis) |
Behind the campsite, the unsealed Grey River Road winds its way up the hillside and I found this to be a good place to go for a walk in the mornings and evenings. The birdlife in the roadside scrub and woodland was quite varied and there were numerous photographic opportunities.

Eastern Yellow Robin (Eopsaltria australis)
Eastern Yellow Robins were quite common and very confiding at times.

Rufous Bristlebird (Dasyornis broadbenti)
Rufous Bristlebirds were also fairly common along the roadside. From all I have read, this is normally a very shy, skulking species that is difficult to see, so I was very pleased to have got such good views.

Grey Shrike-thrush (Colluricincla harmonica)
Grey Shrike-thrush is another skulker that is more often heard than seen. Oddly, I don't even remember seeing this bird and it was a bit of a surprise when I came across this photo after downloading them to my computer.

Superb Fairy-wren (Malurus cyaneus)
Superb Fairy-wren and Grey Fantails were two of my favourite birds from southeast Australia. They have such a lot of character and like many small birds are constantly fidgeting and rarely stay still for more than a couple of seconds. The fantails take this to an extreme and even when staying on the same perch they are in constant motion, fanning their tail and flicking their wings. Of course, this can make it a bit frustrating when you are trying to photograph them, but it all adds to the challenge!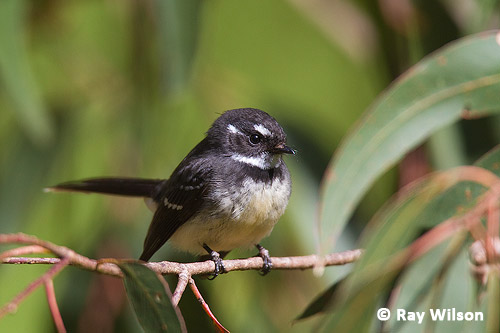 Grey Fantail (Rhipidura fuliginosa)

Brown Thornbill (Acanthiza pusilla)