November 2015
Wet Tropics of Northern Queensland, Australia
Part 8: East Mary Farms Road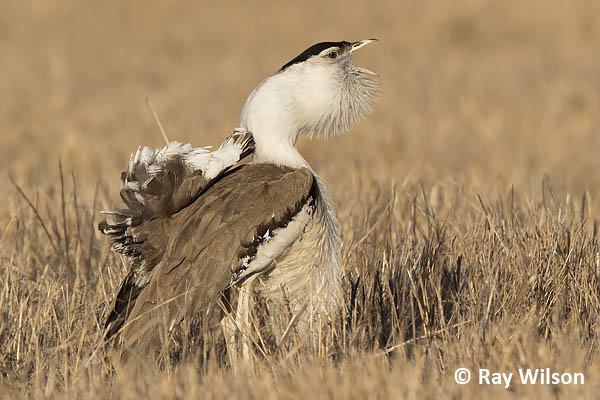 Australian Bustard (Ardeotis australis)
Cruising slowly along East Mary Farms Road, about 30km north of Mount Molloy, is a pretty reliable way to see Australian Bustards and I've always seen at least 2 or 3 every time I've been along there, although they have not always been in photographable positions (please view only from the road. The land either side of the road is private property and should not be entered unless you have permission from the landowners). To avoid the inevitable heat haze, which will prevent you from getting sharp photos, it is essential to visit in the early morning. This year, I only made one visit, but one visit was all I needed...

Australian Bustard (Ardeotis australis)
For nearly 2 hours, from shortly after sunrise to around 8am when the heat haze was already starting to cause problems with the sharpness of the photos, I watched a male displaying at relatively close range (about 20-30m) in perfect, soft early morning light.
Australian Bustard (Ardeotis australis)
Male Australian Bustards have a modified oesophagus which they inflate with air prior to beginning their display. This hangs down like a sac, almost touching the ground. Once the sac is inflated, the display itself is fairly simple, consisting of the male standing upright, extending his neck and emitting a roaring call approximately every 12 seconds. For a bit of variety, he may also rotate on the spot while calling.
Australian Bustard (Ardeotis australis)