Abercrombie River National Park
& Blue Mountains National Park,
New South Wales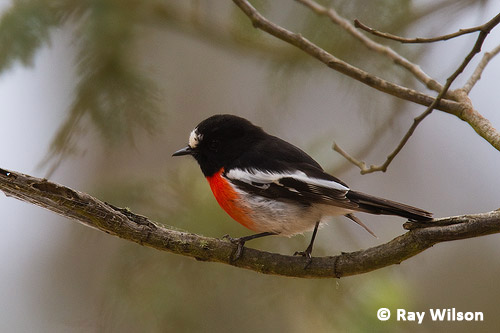 Scarlet Robin (Petroica boodang)
Abercrombie River National Park lies in the southwest foothills of the Blue Mountains and consists of a large area of intact, undisturbed, open forest. We had been intending to camp here as the information boards stated that the campsite closest to the Arkstone Road entrance was accessible by 2-wheel drive cars. A very optimistic statement! We got about 5km down the track before deciding it had deteriorated to a point where it was too rutted and too steep for the little Hyundai Getz to handle safely. A wise decision as it turned out, as there was heavy rain that night which would have made it impossible to climb back out of the valley on what would have been a very slippery, muddy track.
| | |
| --- | --- |
| Rufous Whistler (Pachycephala rufiventris) | Striated Pardalote (Pardalotus striatus) |
We did, however, spend a few hours walking along the track in the southern part of the park where we encountered a good range of woodland species.

White-naped Honeyeater (Melithreptus lunatus)
The fibrous bark of this tree was a very popular source of nesting material...

White-naped Honeyeater (Melithreptus lunatus)

Pea (Fabaceae sp.)
After our plan to camp at Abercrombie was aborted, we decided to head straight up to the Blue Mountains and see if we could find somewhere to camp up there. Due to its close proximity to Sydney, the Blue Mountains National Park is one of the most popular tourist destinations in Australia and, being a holiday weekend, it was very busy. It was also very wet! The cloud level was well below the mountain tops and visibility was very poor. After a fruitless search for a campsite, we ended up just parking the car, walking a couple of hundred metres into the forest and pitching the tents at the first suitable spot we could find...

Our impromptu campsite in the wet and misty Blue Mountains (photo © Bradley Stevenson)
The weather the following day was, if anything, even worse! Our first port of call was Katoomba to view the Three Sisters before the area got too busy and crowded. Visibility, however, was terrible and from the main view point we couldn't even see the closest of the three rock columns.

Rock face in the fog - Blue Mountains National Park, New South Wales

One of the most precariously balanced trees I have ever seen...
With the weather looking unlikely to improve much in the mountains, we decided to cut our losses and head towards the coast in the hope of slightly drier conditions...