October 2015
The "Top End" of Australia
Part 5: Kakadu NP (Nourlangie)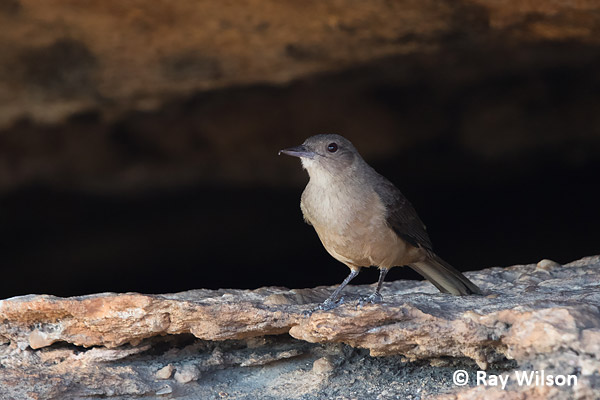 Sandstone Shrike-thrush (Colluricincla woodwardi)
The area around Nourlangie Rock, about 30km south of Jabiru, is the one of the most reliable places to see a couple of the most sought after Top End specialists: Black-banded Fruit-dove and Sandstone Shrike-thrush. During the time of my visit, a pair of Sandstone Shrike-thrushes were nesting in a sandstone outcrop near the Nawurlandja lookout and could easily be watched there as they travelled back and forth to their nest in a rock crevice.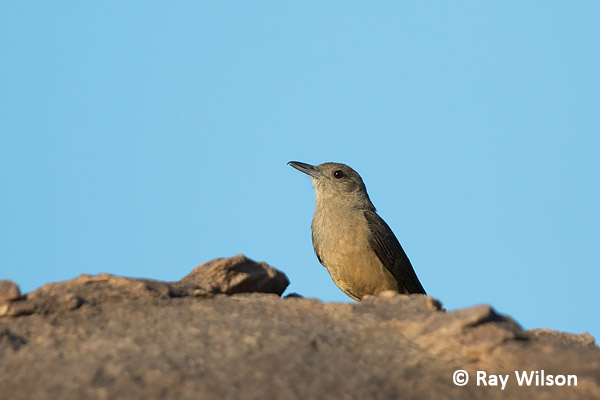 Sandstone Shrike-thrush (Colluricincla woodwardi)
The Banded Fruit-doves were a bit harder to find. These shy pigeons inhabit the small patches of monsoon forest at the base of Nourlangie Rock. It is easy to tell when you are in suitable habitat as the transition between the dry, open Eucalyptus and paperbark woodlands to the more varied, moist monsoon forest with its dense understorey is quite sudden and obvious. If you just want to see the doves, then it would be best to just go straight to the lookout on the Anbangbang gallery circuit, look towards the rock and scan the tops of the trees in the valley below you. There will often be one or two sitting on exposed perches. The distances here, however, are large and even with a 600mm with a 2x converter the chances of getting any more than a small dot in the middle of the frame are extremely low. To get photos of the doves, the best solution I found was to sit quietly on the bench at the rest stop about halfway up the hill, before you get to the Barrk Bushwalk junction. The doves occasionally came quite close here to feed on fruit. The problem with this spot, however, is that it is almost impossible to get a clear shot of the birds when they do come down due to the dense undergrowth getting in the way. I got quite lucky with the bird shown below and am reasonably happy with the images I got of this very shy bird, except for the annoying shadows...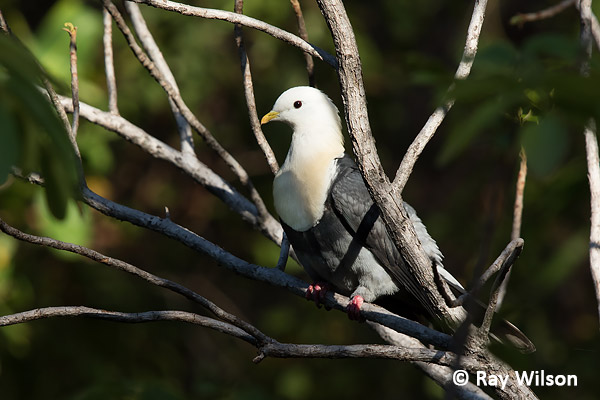 Black-banded Fruit-dove (Ptilinopus alligator)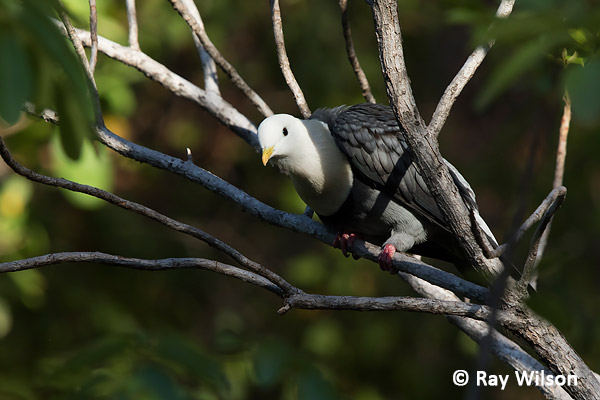 Black-banded Fruit-dove (Ptilinopus alligator)
| | |
| --- | --- |
| Nankeen Kestrel (Falco cenchroides) | Spangled Drongo (Dicrurus bracteatus) |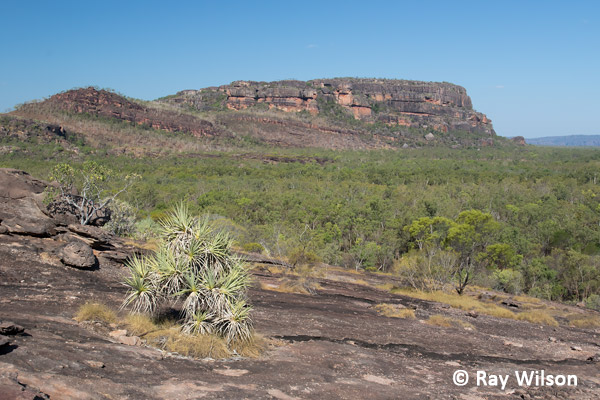 Nourlangie Rock viewed from Nawurlandja lookout - a good spot to look for Sandstone Shrike-thrush and Chestnut-quilled Rock-pigeon
At Nourlangie there are numerous excellent examples of aboriginal rock art ranging in age from as far back as 20,000 years ago to the middle of the 20th century.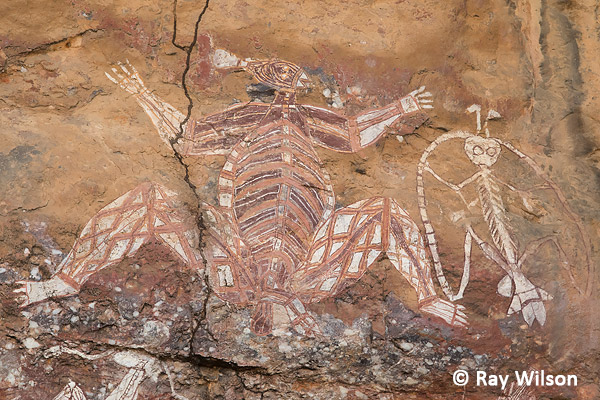 "Lightening Man" cave art
The figure depicted in the rock art above is Namarrgon, the "Lightning Man". He is an important figure in the local aboriginal creation myths and is responsible for generating the violent lightning storms prevalent in the area every wet season.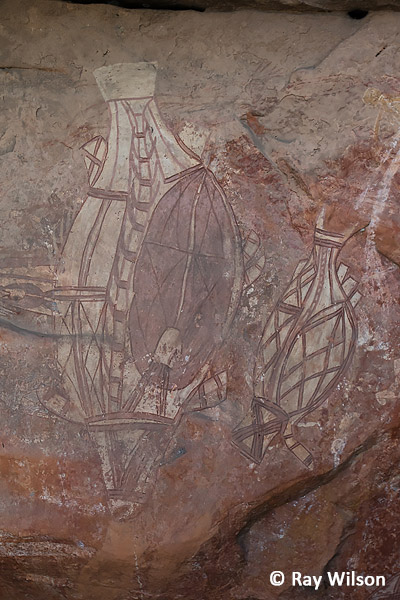 x-ray-style Barrimundi cave paintings
Artwork of important events such as the first contact with Europeans are illustrated with a depiction of a schooner in full sail.

Cave painting of a schooner