April 2011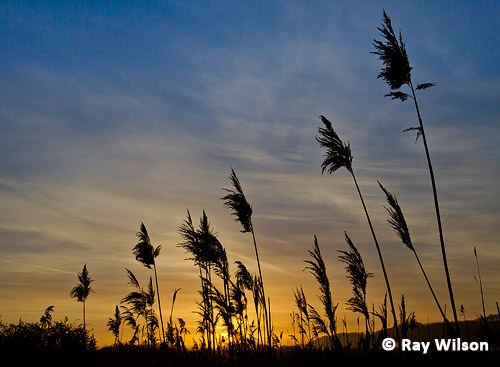 Sunrise at Attenborough - Nottinghamshire, England
April began with photographing a few of the common early spring migrants at my local reserve: Attenborough...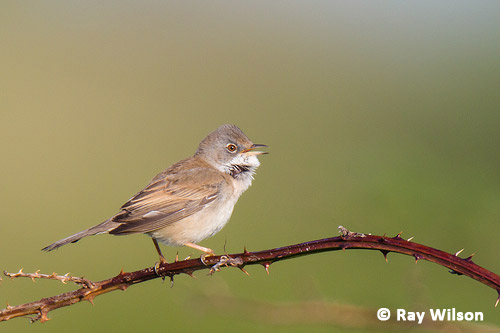 Common Whitethroat (Sylvia communis) - Nottinghamshire, England
...but the highlights of the month were the trips to the Highlands of Scotland over the two long bank holiday weekends.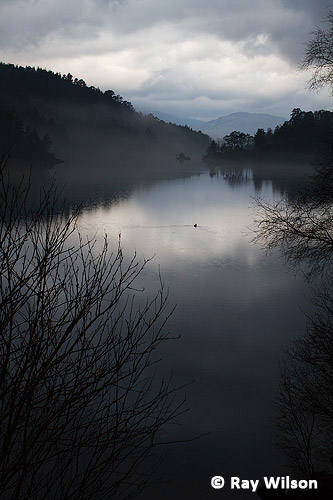 Loch Beinn a' Mheadhoin
The focus of the two weekends was totally different, with Easter weekend being spent hiking in Glen Affric while the following 4-day weekend was spent in the Aviemore area concentrating on photographing some of the bird, mammal and insect specialities of the area.

Loch Beinn a' Mheadhoin
Glen Affric is a very scenic valley whose character changes dramatically depending on the weather conditions, as is amply illustrated by the two photos above.

rainbow over Gleann nam Fiadh
When the wind is in my face, seeing a rainbow ahead of me is usually a bitter-sweet experience in the Highlands as nine times out of ten it means I am about to get very wet! Thankfully this was one of the rare occasions when the rain stopped before it reached me.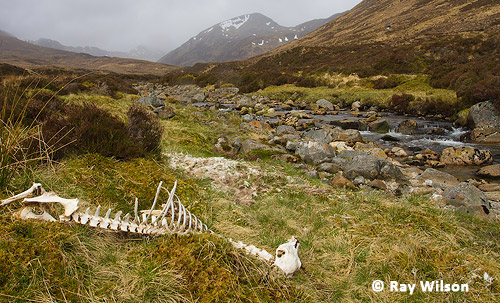 Red Deer skeleton in Gleann nam Fiadh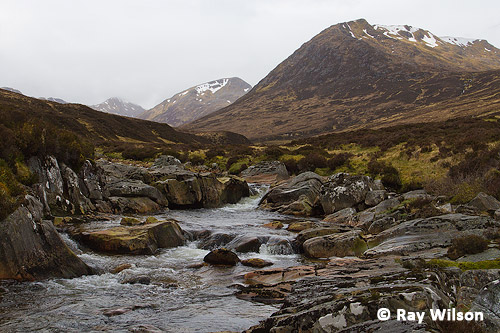 Gleann nam Fiadh
Red Grouse are very common on the heather moors in many areas of the Highlands. They are, however, particularly easy to photograph along the road from Farr to Garbole to the east of Loch Ness.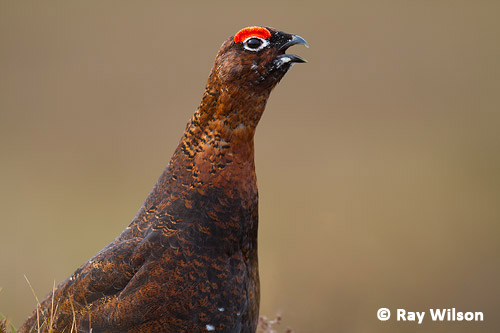 Red Grouse (Lagopus lagopus scoticus) - Highland, Scotland
Red Grouse (Lagopus lagopus scoticus) - Highland, Scotland
The upper slopes of the mountains are the realm of Ptarmigan. In the Cairngorm Mountains they rarely breed below 700m (2300ft).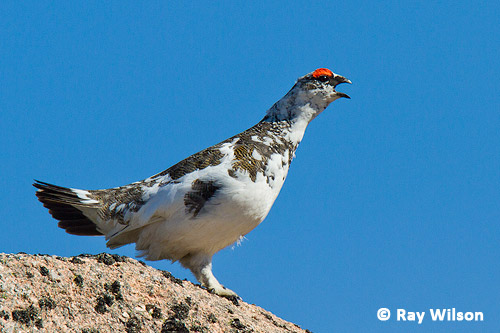 Ptarmigan (Lagopus mutus) - Cairngorm Mountains, Scotland
Mountain Hares are generally far more timid and can be very hard to spot in among the numerous, similarly-coloured, granite boulders on the mountainside.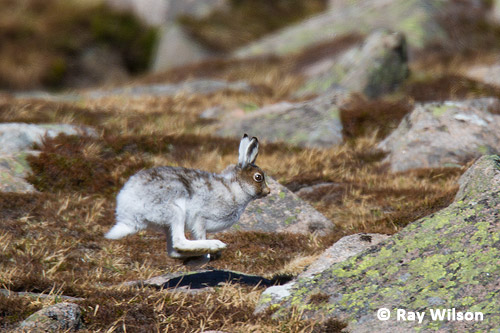 Mountain Hare (Lepus timidus) - Cairngorm Mountains, Scotland
At this time last year, most of the ski slopes were still open on Cairngorm. This year there was hardly any snow at all...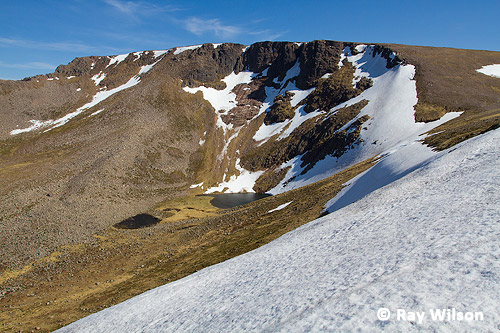 Cairn Lochan
In the more lowland areas, Common Sandpipers are quite common along the rivers and loch shores during the summer months and a few early arrivals were setting up their territories.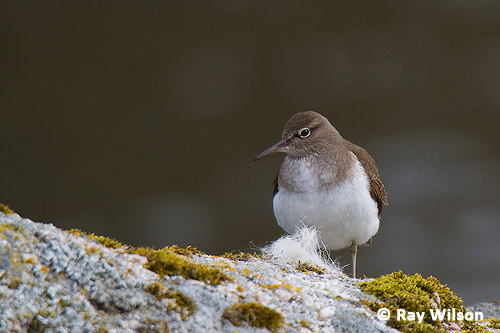 Common Sandpiper (Actitis hypoleucos) - Highland, Scotland
Green Pheasants are sometimes released on shooting estates and hybrids between this Japanese pheasant and the more familiar Ring-necked Pheasants can frequently be encountered.

Green Pheasant (Phasianus versicolor) - Highland, Scotland
Most of my time in the Aviemore area was spent in the Glen More forest trying to track down Crossbills. There are at least 3 species of crossbill currently recognised in the Scottish Highlands but identification is extremely difficult and totally reliant on bill measurements. Although I managed to get some good photos of a few individuals, I don't think it would be safe to attempt to identify them to species. The female below has the heaviest bill of any that I photographed and, seen in isolation, might have been considered to be a reasonable candidate for Scottish Crossbill...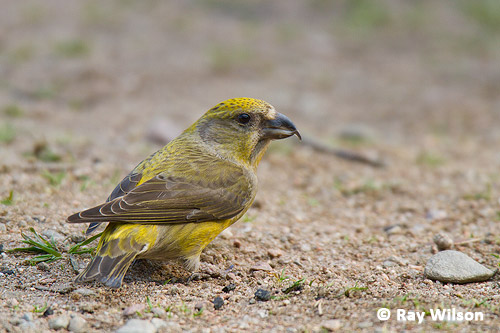 female Crossbill sp. (Loxia sp.) - Glen More forest, Scotland
However, it was paired with the male below which looks much more like a Common Crossbill so if the female was a Scottish Crossbill then it would have been a cross-species pairing...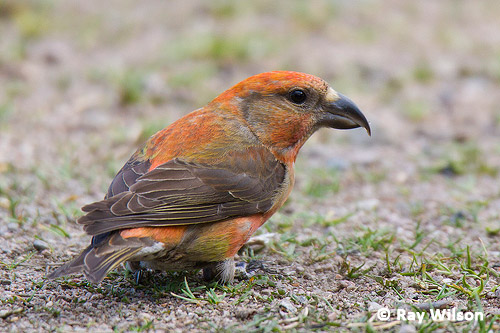 male Crossbill sp. (Loxia sp.) - Glen More forest, Scotland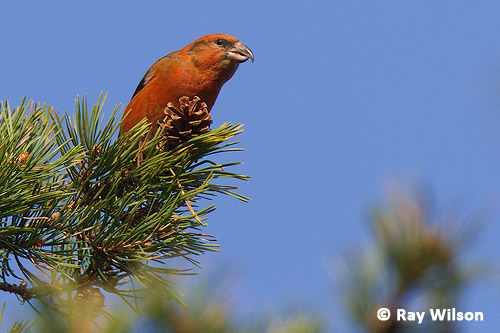 male Crossbill sp. (Loxia sp.) - Glen More forest, Scotland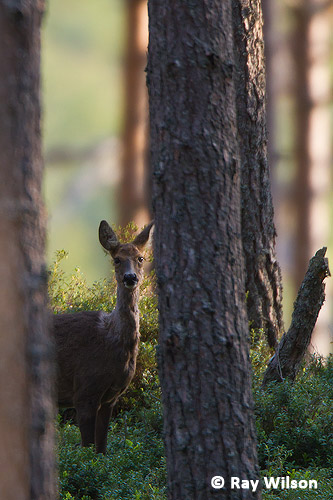 Red Deer (Cervus elaphus) - Glen More forest, Scotland
During the middle of the day, when the light was too harsh for bird photography, I turned my attention to photographing wood ants. I had particularly wanted to get some photos of Narrow-headed Wood Ants (Formica exsecta) but despite quite extensive searching in areas where I know they used to have nests 15 years ago, I couldn't find any. Their nests are a lot smaller than the very conspicuous thatched mounds made by the more common species (F. aquilonia, F. lugubris and F. lemani) so maybe it was just a bit too early in the season.

Formica aquilonia - Highland, Scotland
When wood ants (Formica spp.) perceive a threat they face their opponent (in this case my camera lens...), ready their jaws for biting and point their abdomen towards the enemy. If the danger persists, they will squirt a stream of highly caustic formic acid from the tip of their abdomen.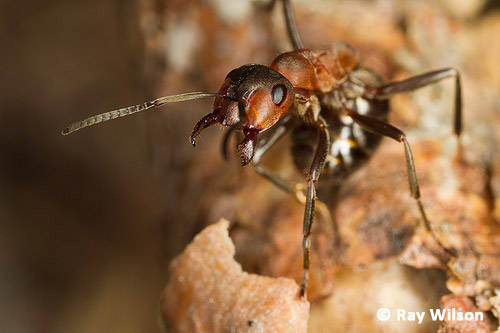 Formica aquilonia - Highland, Scotland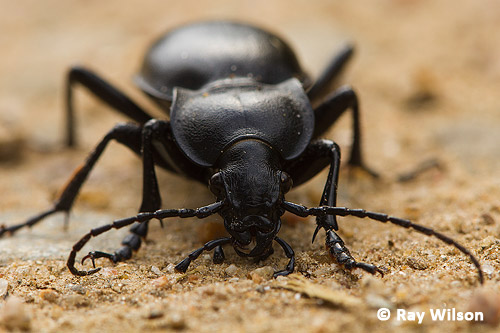 Carabus glabratus - Highland, Scotland
Predatory carabid ground beetles were quite common along the forest tracks but I wasn't expecting to see the gruesome sight of a parasitic worm erupting from the abdomen of the unfortunate beetle below. It's hard to imagine how a worm that size fitted inside the beetle!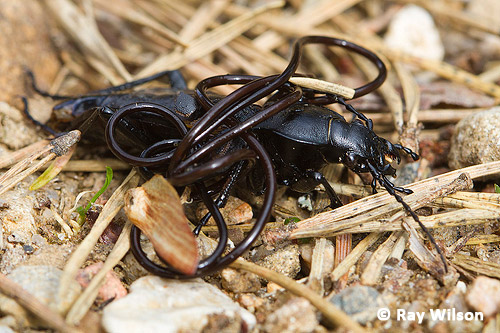 parasitic worm erupting from the abdomen of Carabus glabratus - Highland, Scotland

Loch Morlich